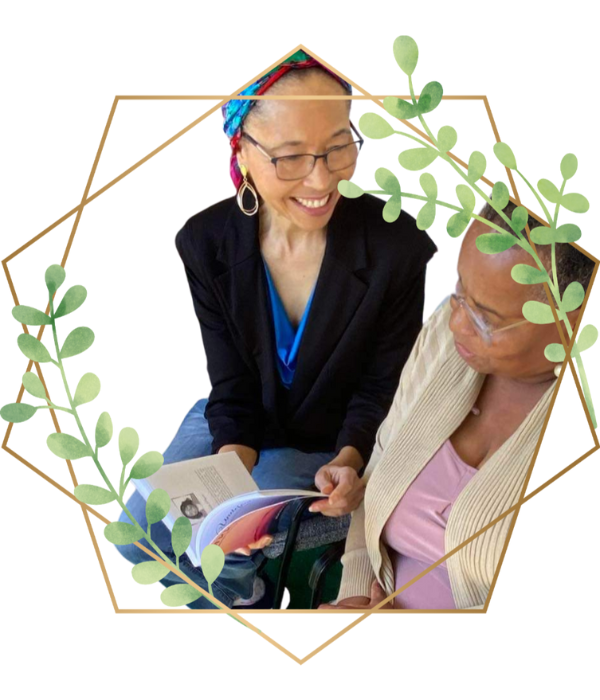 Gold Plan – Premier Total Body Transformation H.A.B.I.T. Program
Here's What You Will Get
Premier Total Body Transformation H.A.B.I.T. Program
Designed To Teach, Support, And Guide Clients On How To Have A Complete Health Overhaul. This Program Is A Minimum Of A 3-Month Commitment To Follow The Entire H.A.B.I.T. Process.
1 Session To Discuss Health Vision And Goal Planning To Kick Off The Program (60 Minutes)
4 Coaching Sessions (60 Minutes) To Discover The Root Cause Of Your Health Condition And Create Effective Strategies Toward Reaching Your Health Goal
2 Laser Phone Calls (15 Minutes) For Emergency Questions
Workbook For Session Notes, Questions, And Answers For The Homework Assignments
Assignments After Every Session For Your Continued Practice
Email/Text Support For Questions And Encouragement
Pre-Recorded Training / Exercise Sessions
Sample Meal Plans And Recipes As A Guide
Accountability Journal To Record Your Progress
Monthly Subscription Membership To The Online Support Group Included
Investment: $1497/Month
Our Personalized Program Is Designed To Teach, Support, And Guide You Toward A Complete Health Overhaul. This Hands-On Approach Focuses On Four Primary Areas That Affect Your Health. We Will Show You How To Use Our Proven Step-By-Step Process To Reverse Chronic Illnesses Such As Type 2 Diabetes, Lose Weight And Keep It Off Or Heighten Your Current Fitness Level To Prevent Chronic Illness. We Can Take What Was Once Just A Health Vision And Turn It Into Reality.
Unlike Other Health Coaching Programs, You Will Get The Desired Results When You Work And Follow The Plan.
You don't need this program if:
You Are Perfectly Content With Your Current State Of Health
You Are Not Willing To Execute The Strategies Needed To Transform Your Health
You Already Have A Roadmap, Coach, Support, And Accountability Partners
This Program Is Ideal For You If:
Without A Doubt, You Must Reverse The Health Trajectory You Are On To Prevent Chronic Illness Or Save Your Life.
You Are Ready, Willing, And Able To Invest Your Time And Money To Be The Best Version Of Yourself.
You Are Open And Committed To Journey With Me Through Your Lifestyle Change To Achieve Optimal Health.
You Have Tried Without Success And Are Now Ready For Training With Strategies, Support, And Accountability.
If This Sounds Like You, Click The Button Below To Begin Your Health Overhaul.
It's Time To Take Action!
Now, I Realize You Might Be Hesitant To Sign Up For Your Total Body Transformation Despite Struggling With Your Health.
And The Reason Is Simple, You Don't Know How Effective Health, Wellness, And Fitness Coaching Sessions Can Be. Currently, Nearly 60% Of Adult Americans Have At Least One Chronic Illness, Such As Diabetes, Cancer, And Cardiovascular Disease, Which Are The Leading Causes Of Death In The United States.
So, You See How Valuable This Program Can Help You Reach Your Health And Wellness Dreams.
Common Questions About The Program
Can This Work For Me?
The Signature H.A.B.I.T. Framework (Health Assessment, Accountability, Breakthrough, Integration, Transformation) Is A Curated Program Based On Each Individual's Needs. It Is A Holistic Approach To Your Health. I Used This Process To Reverse Multiple Chronic Illnesses And Move Lupus Into Remission.
Is This A Fully Developed System? It's Based On Over 30 Years As A Registered Pharmacist, Research, And Mastery In Transformational Health And Life Coaching. Many Of The Methods And Tools Utilized In This System Are Adapted From Programs Accredited By The International Coach Federation.
What Result Can You Guarantee?
We Understand This Question Comes From A Need For Certainty. However, We Ultimately Recognize That Health Results Vary Depending On Your Level Of Fitness, Medical Conditions, And Ability To Follow Personalized Strategies. My Job Is To Guide You With The Tools To Achieve Your Health Goals.
Thus, We Do Not Guarantee Any Results Because It Takes Time To Develop Lifetime Habits, And Some Needs Take Longer Than Others. It All Depends On Your Willingness To Continue The Course.
It Is Our Personal Goal For You To Complete The Program Much Healthier Than When You Started And That You Will Gain Significant Progress. You Will Always Start And End With A Health Assessment.
If You Are Still Curious, Take A Look At Our Testimonials Here.